AGRO-INDUSTRY MODERNIZATION CREDIT AND FINANCING PROGRAM (AMCFP)
The Agro-Industry Modernization Credit and Financing Program (AMCFP) was created by virtue of the Agriculture and Fisheries Modernization Act (AFMA) of 1997 or Republic Act 8435.
The AMCFP serves as the umbrella financing program for agriculture and fisheries of the Department of Agriculture (DA). It aims to enhance credit access of the rural poor through the implementation of a comprehensive agriculture, fisheries and agrarian reform credit and financing system that would benefit farmers, fisherfolk and small and medium enterprises (SMEs) engaged in agriculture and fisheries.
Basic Policy Principles of the AMCFP
In order to ensure the proper management and utilization of credit for the agri-fishery sector, the implementation of the AMCFP is anchored on the following guiding principles:
Greater role of the private sector in providing financial services to the agri-fishery sector;
Adoption of market-determined interest rates to sustain the availability of credit funds;
Active participation of the banking sector and government financial institutions (GFIs) in the delivery of credit services, and non-involvement of government non-financial institutions in credit decision-making; and
The government will provide the enabling policy environment, critical support and capacity-building services that would facilitate increased participation of the private sector in the delivery of credit services.
The AMCFP Structure
There are three key players involved in the implementation of the AMCFP: 1) the ACPC as Program Oversight Committee; 2) Fund Wholesalers; and 3) Fund Retailers.
The Program Oversight Committee (the ACPC) oversees the administration of the AMCFP Fund and ensures that the requirements and objectives of the program are met so that there is an efficient and adequate flow of funds to intended clients. The ACPC serves as the, Program Oversight Committee (POC) and is composed of the DA Secretary as chair, the Governor of the Bangko Sentral ng Pilipinas (BSP) as vice-chair, and the Secretaries of the Department of Finance (DOF), Department of Budget and Management (DBM), and the Director General of the National Economic and Development Authority (NEDA) as members.
The POC reviews and approves proposed credit programs, and addresses policy issues affecting the AMCFP. The ACPC also monitors the implementation of the AMCFP and evaluates its performance. The ACPC also oversees the inflow of loanable funds into the AMCFP from the rationalized agricultural directed credit programs or agri-DCPs and the outflow of these funds through qualified wholesalers. The ACPC accredits qualified financial institutions as fund wholesalers of the AMCFP.
Fund wholesalers are financial institutions that adopt specific guidelines and procedures that would govern the evaluation, accreditation, and release of funds to eligible fund retailers. To screen and evaluate potential fund retailers, the fund wholesalers adopt their existing accreditation and eligibility criteria for rediscounting or wholesaling.
Fund retailers lend to the individual sub-borrowers or the intended beneficiaries. They take full responsibility over all financial transactions and credit decisions. As such, they screen the potential borrowers according to their respective sets of criteria. Financial institutions which may qualify as fund retailers are the following:
Private banks such as cooperative banks, rural banks, thrift banks;
Cooperatives duly registered with the Cooperative Development Authority (CDA); and
Non-Government Organization (NGOs) and People's Organizations (POs) with juridical personality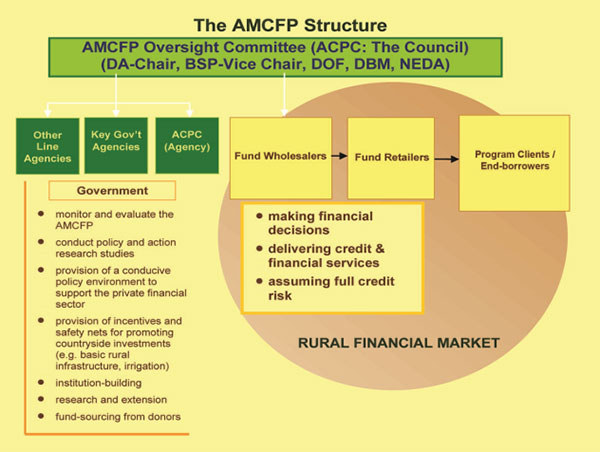 Eligible Program Clients
The eligible end-borrowers/clients of the AMCFP are the following:
Small farmers and fisherfolk
Rural women engaged in production, processing and/or trading of agriculture and fisheries products
Agri/fishery-based SMEs, provided that if such is a single proprietorship or a partnership, the enterprise is classified as "micro-enterprise;" and if such is a cooperative or corporation, majority of its stockholders/members are small farmers and fisherfolk
Eligible Projects
1. Projects that can be financed by the A (per Section 23 of AFMA) are the following :
1.1 Agriculture and fisheries production including processing of fisheries and agri-based products and farm inputs;
1.2 Acquisition of work animals, farm and fishery equipment and machinery;
1.3 Acquisition of seeds, fertilizer, poultry, livestock, feeds and other similar items;
1.4 Procurement of agriculture and fisheries products for storage, trading, processing and distribution;
1.5 Acquisition of water pumps and installation of tube wells for irrigation;
1.6 Construction, acquisition and repair of facilities for production, processing, storage, transportation, communication, marketing and such other facilities in support of agriculture and fisheries;
1.7 Working capital for agriculture and fisheries graduates to enable them to engaged in agriculture and fisheries-related economic activities;
1.8 Agribusiness activities which support soil waterand water conservation and ecology-enhancing activities;
1.9 Privately-funded and LGU-funded irrigation system that are designed to protect the watershed;
1.10 Working capital for long-gestating projects; and
1.11 Credit guarantees on uncollateralized loans to farmers and fisherfolk.
2. Projects to be financed shall be demand driven. However, priority will be given to viable projects under the categories listed above and which promote the competitiveness of small farmers/ fisherfolk such as but not limited to the following:
2.1 Projects that adopt or showcase new/ modern technology that enhances yield and/or quality produce;
2.2 Acquisition of modern machinery/ equipment and/or adoption of new methodologies that improve productivity and quality of processed or traded agriculture and fishery products;
2.3 Projects that introduce upgrading of quality of local breed of fishery, poultry or livestock or introduce new / modern technology that improves quality and productivity of local stock;
2.4 Projects that adopt diversification, including non-farm or off-farm economic activities, particularly in the case of marginalized or subsistence farmers and fisherfolk.
Interest Rates
1. Fund wholesalers to fund retailers
1.1 For short term loans – 91-day Treasury Bill Weighted Average Interest Rate (WAIR) plus spread;
1.2 For long term loans – WAIR on government bonds/securities of equivalent maturity plus spread for fixed rate or if a variable rate is adopted, the loan will be repriced quarterly equivalent to the 91-Treasury Bill WAIR plus spread.
The spread shall be set by the fund wholesalers taking into account the associated risk which shall range from one percent (1%) per annum for secured loans and two percent (2%) per annum for unsecured loans.
2. Fund retailers to end-borrowers/clients – Fund retailers shall charge interest rates to program clients/end-borrowers according to their existing policies which takes into consideration recovery of lending costs and associated credit risks.
The interest rates spread shall reviewed periodically by the ACPC.
Contact Person:
Mr. Norman William S. Kraft
Director II
Telephone Number:
+63 2 634-3320/21/26
Fax Number:
+63 2 634-3319
Contact Email: info@acpc.gov.ph